I'm Off!
Disconnecting while en route to Seoul. Should get there Sunday afternoon local time (GMT+9, or 8 hours ahead of France, 14 ahead of the East Coast, and a whopping 17 ahead of California where the Princess will be spending the week... BTW, I hope you have a good time there, darling. I'll miss you, and I hope we can stay connected despite your PC problems.) So don't expect anything to be posted here until Sunday noon GMT at the earliest. You all have a good one, and don't forget to email me your snailmail addresses if you want postcards!
Location : Beauvais, France
Listening : Philip Glass's Aknaten opera. I love this guy...
UPDATE : Blogging for the Air France lounge in Charles-de-Gaulle airport :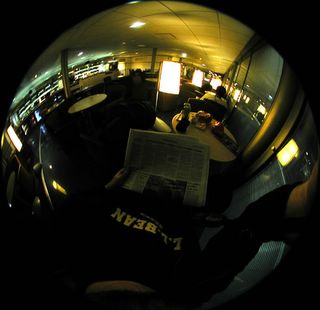 to tell you that I scored an Exit Row Seat, which for 6'4" little ol' me makes the difference between sophisticated torture and a full night's sleep. Yay me, in other words. Oh, and one more person asked for a postcard, which puts the count, prior to me leaving France, at 7 confirmed and 1 possible, still wondering if I'm a serial killer. That leaves 4 or 5 slots open for the second batch, so you could still be a lucky winner!
Location : CDG, France.
Drinking : Diet Coke & Whisky.
Reading : Int'l Herald Tribune.