Happiness is a Cigar Called Hamlet...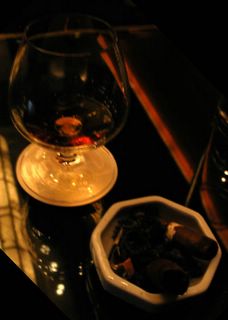 After a quiet day at the office, in which we've made some real progress, we unwound at the hotel with some cigars and some cognac. I would have preferred some scotch, but the difference in price pushed me to give it a go.
A mistake. Cognac is just too sweet for this. Felt like maple syrup, or worse, caramel. Oh well, live and learn.
At least the
Cohiba
was deliciously smooth. I've never been disappointed by one. I'll miss them in the US.
There is a good live band in the lounge, with two female leads, and some male vocals from the lead guitar. All three are good, but he has some soul. Reminded me of a colleague of his in a girly bar in Phuket-Town, the Pink Lady something or other (there are several Pink Lady somethings in Phuket, but this one was mid-range, going for the chinese businessmen, the westerners tending to stick to Patong on the other side of the island).
Anyhoo, this singer gave a moving rendition of Elvis standards, and the King was smiling on us that night. I left my co-divers to a hard-fought round of Connect-Four with the bar-girls and just enjoyed the singing.
Location : Hotel Shilla, Seoul, Korea.