Update from Phuket

Some of the earlier readers of this blog will remember that my brother Greg lives in Thailand, on the island of Phuket, hard hit by the Xmas Day Tsunami last december. His live reports are available in the classics menu in the sidebar.
Turns out his school received a million bhat (20k euro) from a swede, and he has had to find someone in more dire need. This is Bang Tao School, because the school itself is undamaged, and in a spot where few westerners go, and has received little private aid, and no public aid what's so ever.
Here is a breakdown on the spending of the 4,600+ euro he collected :
3 times 10,000 bahts for the 3 kids that lost at least one parent.
64 times 2,500 bahts for the 64 kids whose homes have been destroyed and whose parents have lost their livelihood (fishing boat, beachfront restaurant).
42 times 1,000 bahts for the 42 kids whose families have suffered some damage and loss, but not so traumatic.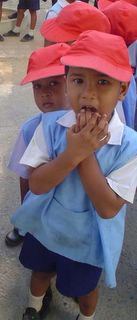 Greg tells me the economy is tanking, people are getting laid off, and the sponsors for his radioshow have cancelled sine die. I'm sure this money, as little as it seems to us, will be of real help in Bang Tao.
Location : the Road to the South of France.