What Have They Been Feeding the Fish?
You know those claw machines at funfairs? Like the one filled with three-eyed aliens in Toy Story? (The Claw has chosen him!) Well, we have one of those right in front of the house. Except it has fish in it, and that I'd like to know what they've been feeding them lately. I haven't seen anyone look that spaced out since High School.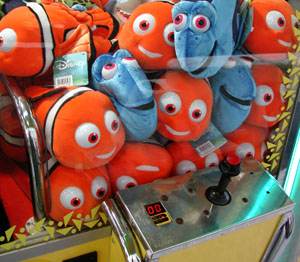 Nemo : Ooh, look at the pretty joystick!
Dory : Hey, what's that metal thing coming down?
Speaking of High School, never understood why my gum-popping dates would decide that these torture machines were a suitable test for my qualifications as a potential mate. Ok, kisser/kissee. Ok, hand-holder.
Proficiency with the claw would have required an investment of my hard-earned pocket-money that, had I put it in Microsoft stock at the time, would now mean I could not only buy Nemo, but
Pixar
along with him.
Alas, altho I failed to buy MS stock in 1985, I also failed to practice with the Claw. Which cast a dim light on my hand-eye coordination, and thus my ability to spear an antelope, or get a driver's license. Meaning dating me was a waste of their time.
Somehow, I never managed to convince them that my scores at
Arkanoid
were a better yardstick... or some of my weirder skillz :
Post-It Origami Soccer Ball!