Dancing the Night Away...
Went to a dance show tonite at the
Palais de Chaillot
. The show is called
danfe
, with the f that was used in old French for the letter we now write s. It is by the troup, and with the same techniques as the opera Les Paladins, which I unfortunately did not see. They mix classical music with breakdancing and video images projected on the back of the stage, life-sized, and it's like a dream where animals and images of the dancers dance with the dancers themselves. Oh, and there is a trampoline, and that's always a plus :D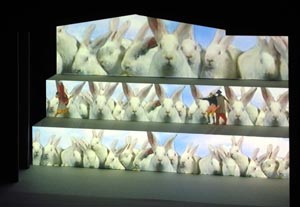 It's a show like nothing I've ever seen, and it'll put a spring in your step! Hurry and go see it if you're anywhere in the Paris area, and look for it abroad, I know they've been to China, at least, with Les Paladins, so they might go on tour with this one too!
NB : I have four takers on the
Postcard from Korea offer
, and one whinger who's afraid I'm a serial killer, so there are still slots left. Hurry up and order now while they last!
Location : Beauvais, France