Looking Hi&Lo for my Lil'Bro...
This morning when I logged on before getting out of bed, I found my
Lil'Bro
on MSN, now the proud owner of a 7.2 Megapixel Sony camera and rapidly running out of space on his MemorySticks. After
the usual banter
, we got down to brass tacks and he indicated that he did, after all, want that Belkin memory card reader for his iPod, like, now. Problem is, where the heck is it? Which of the five moves which all somehow converged here was it a part of? Which box?
Stairway to Heaven
First I ran upstairs to the two (count 'em, two) unused floors of the main house, having discounted the other house as it only holds what we moved yesterday. Waded thru box after box of stuff and couldn't find it.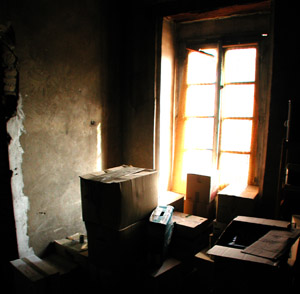 s'a lotta stuff
After some thought and discussion with the parents, decided that no, the adaptor must have been in the main move, which now fills most of the cellar.
oops, this is the wine cellar.
Basically moved all the shit in that six room cellar two feet over to check all the cardboard boxes. No adaptor. That's the bad news. The good news is that the two months in the gym have paid off and after two days of heavy lifting in all the wrong positions, still no back pain.