Slightly Used
Saturday dawned sunny and warm again, and I was all set to load up the iPod with some music, and mope in a park pretending to read a book, when
Chaton
suggested we drive to the Normandy coast to soak up the rays on the pebble beaches at the feet of the famous cliffs of Etretat.
Sun played hide and seek on the road, but burst over the Normandy bridge to fill the humming Lexus with golden warmth thru the open sunroof and stuck with us the last few miles to shine upon the beaches.
We shot pictures of each other, of the sea, the sun, the cliffs, drank latte and hot chocolate when the wind blew in and made phone calls. I have so many friends to call about the apocalypse. To laugh and lie and wear a red shirt so the troups can't see me bleed and oh, I'm sure I'll find something and it's only a temporary setback and we just need to wait and be patient and sure we're patient, the Princess and I, when all I want to do is scream at the gulls in the sky that I have had my fill of waiting, that I want to kill someone in HR.
I'm lost at sea.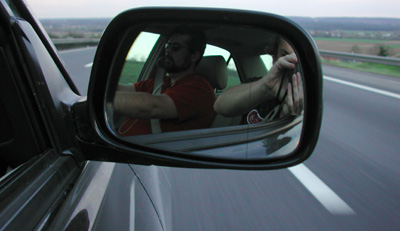 Ok, wine and cheese party, and let's invite the Kat, she always has great Rieslings, and oh, can I call you back? I need to call
the Count
and see if he's in the market for a slightly used soul. Cheap. One (1) Green Card.